Published on March 21 2007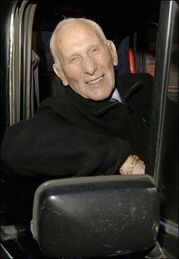 London's longest-serving taxi driver has retired, after 70 years of ferrying passengers around the British capital. Alfred Collins, 92, picked up his first fare in 1937 and plied the streets until two years ago, keeping his black cab licence until last month when he finally decided he was not going to get back behind the wheel.
I kid you not, I think this is the guy who drove us around London and gave us a Cab tour while we were visiting London. It sure explains why he knew so much about the city. Can you imagine, he was probably driving US servicemen around London during WWII. Now this is a guy who loved his job.