Published on August 13 2006
There is bright news in the world, even though I posted something like
this
the other day. There is hope for all of us, even self-described "curmudgeons" like
my best friend from High School
.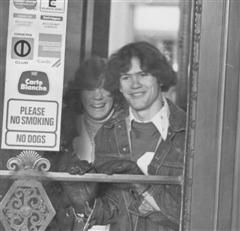 I remember Bill well from HS--he was one of the great characters from my two years in high school in London. He was a *doll* back then, with wavy brown hair and the biggest grin on campus. A year ahead of me in school, he was VP of the senior class, editor of the yearbook two years running (and I always give him hell because I had one, count 'em,
ONE
measly picture in the '77 yearbook!!!), football player
extraordinaire
, and one of the leads in the big musical production of the year for our Drama Department "Annie Get Your Gun" -- which is where I got to know him.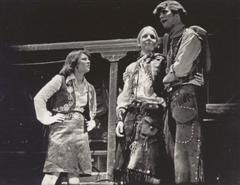 We didn't run in the same crowd back then for the most part, but our paths crossed often in Drama and Theater classes. I couldn't tell you what he thought of me then, or if I ever even caught his eye; but I do remember him as a friendly, popular-for-a-good-reason type of guy. He was the one you just
knew
was going to go on to great and wonderful things one day.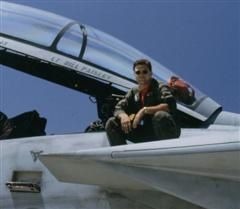 Well, he did. Although he'll tell you "he's an average guy doing an average job", I happen to disagree. A Naval Aviator, for one, zooming around in F-14 jets. How many people get to do something as cool as that?!?!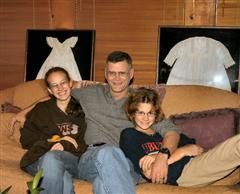 And the job he'd probably say was most important, single father to two beautiful young women. I got to know Bill again a few years back, through our mutual interest in the London Central High alumni groups. It's a pretty loosely organized bunch of people, but we've managed to have several reunions over the years, amazing since we were all American kids living in a foreign country and have spread out around the world since high school. I spent hours scanning one of Bill's yearbooks for the school alumni website, and we spent quite a bit of email time catching up on our lives since England. We found we could talk about anything and everything over the years, and my admiration and respect for him grew. He's my great supportive, non-judgemental friend and I hope I can say that for many more years. And of course as
the link
down on the blogroll says, he's the one who got me hooked on blogs and interested in their design and programming.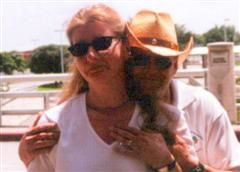 We finally got to meet up again at a reunion in 2004, and this (I think) is the only picture of BOTH of us--we always seemed to wind up on opposite sides of the lens. Oh wait, first, ONE more Navy pic: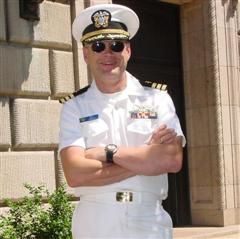 Yeah. :-D Still a doll, isn't he? Sorry, but I had to get a pic of the whites in there.
Richard Gere
and
Tom Cruise
, eat your hearts out! You don't *begin* to wear that uniform right! Anyway, back to Bill. I mentioned he was a single dad, working and raising his kids for the last ten years alone. I admired his determination to do things right with them, but I also knew how hard he worked at it, and how little time it left him for a life of his own. Well, my best buddy has
some wonderful news
. I am so happy for him--there's not a trace of his so-called "curmudgeonly self" in that photograph. Go read and wish him a Happy Birthday while you're there!!