Not every day you see headlines like this one...
Published on July 26 2006
Severed hand found in nude dancer's home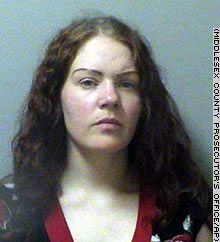 Two people who knew Kay told The Star-Ledger of Newark that the hand, which Kay nicknamed "Freddy," was a gift from a medical student who frequented an all-nude juice bar where she dances. "She has a flair for the dramatic," Patricia Ann Kay said. "I have never tried to stop my children from doing whatever they want. As long as they are happy, aren't hurting anyone, and it's keeping them out of the poor house."
Judging by her mugshot, little Kay is not very happy right about now. What *I* wanna know though, is-- did the med student put the severed hand in her g-string while she was dancing?