Published on June 24 2006
What a photogenic lady!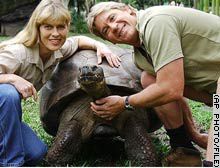 CNN.com - 'Darwin's tortoise' dies, age 176 - Jun 24, 2006
SYDNEY, Australia (AP) -- A 176-year-old tortoise, believed by some to have been owned by Charles Darwin, has died in an Australian zoo. The giant tortoise, known as Harriet, was long reputed to have been one of three tortoises taken from the Galapagos Islands by Darwin on his historic 1835 voyage aboard the HMS Beagle.