Published on August 24 2009
Oh yeah. I woke up this morning to a suitcase sitting next to the back door, and a trail of clothing from that door to my bed. I think I might have been just a teensy bit tired when I got home last night. I would have slept on the plane, but the lady who sat next to me announced she was claustrophobic, terrified of heights,
and
afraid of airplanes. She was also very chatty, and I did my seatmate-ly duty to listen while she talked
the entire flight
. Least I could do for somebody who was so afraid of flying, I guess, but it made for a very sleepy drive home from the airport. This last weekend marked one of my favorite times of the year-- REUNION season! In my case, the reunion involved my alma mater London Central High School and a semi-warm city in California. The Bobcats descended on San Diego this weekend for their couple-of-times-a-decade bash.
The school which was open from 1951-2007, is now
closed
. We Bobcats have become a finite group. But we all seem to be aging quite disgracefully judging by the number of empty adult beverage containers we left in San Diego and the number of new memories we share. This is the best group of people in the entire world, and I love finding out where and what my old friends have seen and done with their lives. And I have a story to prove how very tiny a world it really is. A couple of months ago, I received an email from a '72 grad who had seen my name on the "who's going to the reunion" list. The name of my hometown caught his eye-- it happened to be a town he lived in for a couple of years as a child. We promised to hook up if we both made it to the reunion, and Saturday night we finally did. I'd asked somebody who'd seen him to pass the message he should look for a six-foot tall blonde-- I was the third blonde he'd tried, hehehehe. Hard to believe that a tiny little town in northern Wisconsin could have produced two graduates from a school half a world away, but there it is. And, of course, I hooked up with my old roomie again. Dee and I were roommates for most of my senior year and, after losing track of each other for 25 years, found each other just before
the school reunion in San Antonio
5 years ago. It's always so good to see her.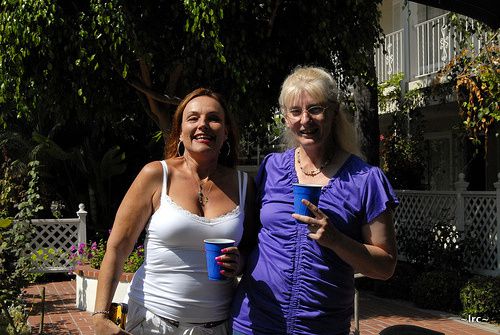 Yes. As a matter of fact, she
was
wearing her high heels for that photo.