Can't wait to see the Cheesehead version of this....
Move over Rambo, you're cramping new man's style - Yahoo! News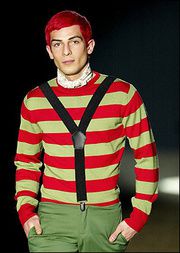 PARIS (AFP) - Macho man is an endangered species, with today's male more likely to opt for a pink flowered shirt and swingers' clubs than the traditional role as family super-hero, fashion industry insiders say. A study along these lines led by French marketing and style consultants Nelly Rodi was unveiled to Fashion Group International during a seminar Tuesday on future strategy for the fashion industry in Europe. "The masculine ideal is being completely modified. All the traditional male values of authority, infallibility, virility and strength are being completely overturned," said Pierre Francois Le Louet, the agency's managing director. "We are watching the birth of a hybrid man. ... Why not put on a pink-flowered shirt and try out a partner-swapping club?" asked Le Louet, stressing that the study had focused on men aged between 20 and 35.
At the VERY LEAST, those French fashionistas could have told this poor guy his pants are on backwards.