WAAAAAAAAAAHHHHHHH!!!!!!!
Published on March 4 2008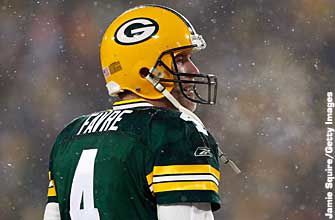 He can't. He just CAN'T. The 'sconsin winters just got very much longer, without our favorite adopted son. He was always just so. damn. much. FUN. to watch, even if it was sometimes with hands covering our eyes.... Brett, it's been a joy. You always looked like you were having such a good time; and so did your fans. We're going to miss #4.
Packers QB Brett Favre will retire after 17 NFL seasons -- chicagotribune.com
GREEN BAY, Wis. - Brett Favre has decided to retire from the NFL after 17 seasons. FOX Sports first reported Tuesday that the Green Bay Packers quarterback informed the team in the last few days. ESPN.com said that according to Favres agent the quarterback told coach Mike McCarthy of his decision. The team did not immediately confirm or deny the report. An assistant to Packers general manager Ted Thompson said he was in meetings all day but would release a statement later Tuesday morning.
[UPDATE]
Fox Sports
is reporting it as true, too.