Published on September 30 2007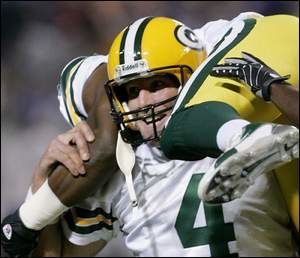 "How 'bout dem Packers?" P.S. It was really
really
nice to see the crowd in the Metrodome, the fans of the hated Viqueens, applaud Favre when he completed the pass. Some things are more important than the rivalry, even if I do have a couple of friends who won't talk to me for a week after their team's loss today!
PackersNews.com - Favre sets NFL TD pass record at 421
MINNEAPOLIS — Brett Favre is No. 1 — with a bullet. Favre broke Dan Marino's record for career touchdown passes today, zipping No. 421 to Greg Jennings in the first quarter of the game against the Minnesota Vikings. He hit Jennings on a 16-yard slant for the score with 4 minutes, 56 seconds left in the quarter. The Metrodome crowd gave Favre a long, gracious round of applause. Marino congratulated Favre in a taped message shown on the scoreboard.