Published on September 8 2007
What a trip!! We had a great time--my poor repeatedly sun-and-wind-burned nose may never recover. Day One was great. It was my first time riding long-distance in a large group, so I was a little nervous. I didn't want to fall back and miss a stoplight, nor did I want to run up anybody's tailpipe. The crew put me in the middle to keep an eye on me, and once I got used to our staggered formation, I had a great time. The weather was warm, there was little or no road construction, I didn't have to worry about routes or map-reading, so I could just kick back and enjoy the ride. We did about 400 miles that day, over to Lake Michigan, up the western coast from Marinette, across to Escanaba and Manistique, then on up through a beautifully new-paved road past
Tahquanemon Falls
to a little town called Paradise. (Yes, there were
many
jokes about "how long til we reached Paradise". Sigh.) The motley crew in Paradise, minus one taking the picture and one who was wandering around someplace: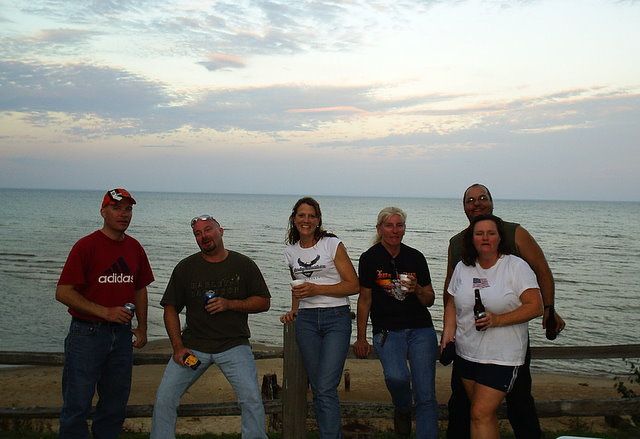 As I said, the riding was great on Day One, as was the beer-drinking around the campfire, listening to Lake Superior a few yards away. In fact, we had so much fun that the motel owner had to come out and tell us to pipe down our raucous laughter. Ooops. Such a rebel biker gang we are, eh? The riding may have been great on Day One, but Day Two was another story.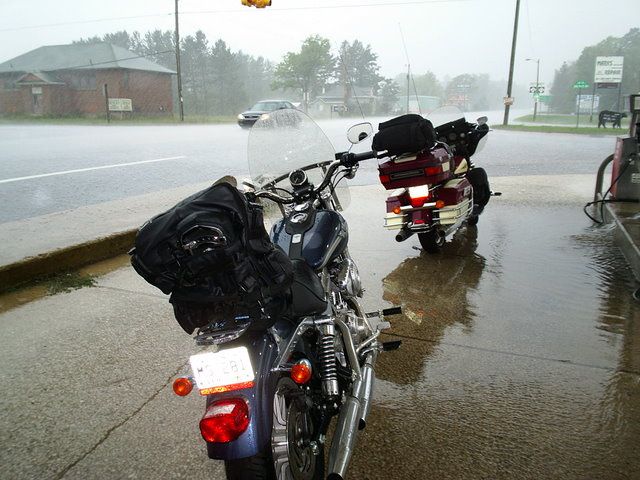 Yes, Precious (the soggy blue Harley submarine in the foreground) got a bath. As did the other five bikes and all of their passengers. Repeatedly. We figured we got completely soaked and dried at least three different times that day. You will hopefully not ever see photos of me in my el cheapo rainsuit-- not only because it's *white* and makes me look like the Michelin Man but also because I absolutely refused to let anyone within camera range. Not to mention, it didn't work too well keeping me dry, lol. There's just something... refreshing ... about ice water running down gas tanks at 60mph to puddle in the area where the posterior meets the leather. We only managed a couple hundred miles that day due to the many stops under whatever awnings we could find. We did manage to go out to
Whitefish Point
to check out the lighthouse and shipwreck museum. We saw
this
there, and yes-- the museum played
that song
. I didn't even get my camera out of its little waterproof bag, since everything at the lighthouse and museum was hidden by the low clouds and downpour, so sorry no pics there. At any rate, the hot shower at the end of the day made all the sogginess worthwhile, although I think my boots might dry out sometime in 2009. Maybe. Day Three, although it dawned cold (and
early
, due to my room's previous occupant resetting the clock to TWO HOURS EARLIER than the correct time), was another great riding day. Thankfully, all my clothes which hung over the heater all night had dried enough to keep me warm through the morning. We left Marquette and took the slow scenic route back home. I need to have more fun like this. But after waking up at FOUR AM, first I'm going to go take a nap.