Yeah, yeah... I know I promised an update on
the thing that nobody could figure out
. So I'm a little slow. But first..... the eagles are nesting!! Isn't this a cool pic?!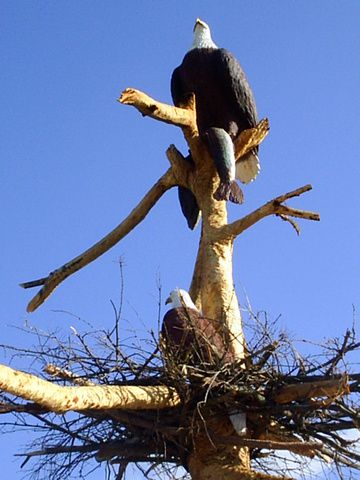 Beautiful birds, aren't they? Looks like one of them caught a fish. Although I've been watching ospreys fishing, I haven't seen any eagles fishing yet this spring. Ever watch an osprey fish? I always used to wonder how a bird could fly 70 feet above the water and spot a fish, dive down and catch the thing all in the space of a few seconds. How on earth does the bird see the fish? It's simple-- the bird doesn't actually fly-- he hovers in one spot for up to thirty seconds, flapping his wings just enough to keep from falling. If you're close enough you can see his head whipping back and forth, scanning the surface of the water for movement. If he spots something, it's a short fast dive to the water. At the last second, the bird pulls up with talons down, and basically bellyflops into the water. I've watched ospreys completely disappear beneath the surface and come up spitting and sputtering. 'Course, right now the water temp is probably about 40 degrees. I'd probably be spitting and sputtering after a dive into that, too. But I digress. I think we need a wider shot of these birds.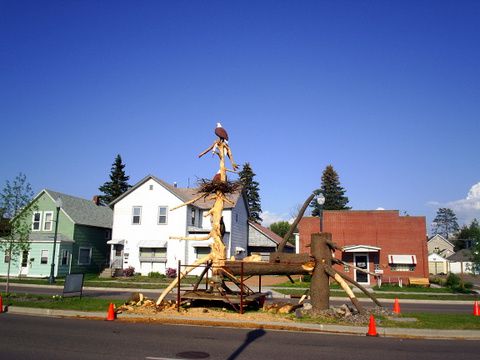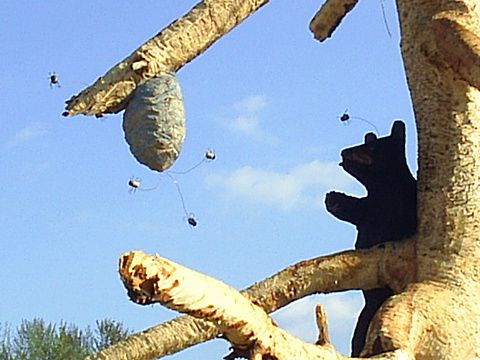 Pretty neat, isn't it? The thing nobody could figure out is becoming a totem pole, completely carved by chainsaw. There's even a bear cub about to raid a bee's nest. I don't think the bees were done with the chainsaw, but they are very lifelike. Note to self: Just because it hits 75 degrees does not mean one needs to try a 15 mile trailride when one has only done a couple of little 4 or 5 mile jaunts. One finds that one cannot walk this evening.