Published on March 9 2007
Boston lead singer Brad Delp dies at 55
ATKINSON, N.H. -- Brad Delp, the lead singer for Boston, a huge rock sensation in the 1970s, was found dead Friday in his home, police said. He was 55. Atkinson police responded to a call for help at 1:20 p.m. and found Delp dead. Police Lt. William Baldwin said in a statement the death was "untimely" and that there was no indication of foul play. Delp apparently was alone at the time of his death, Baldwin said.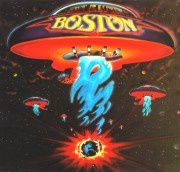 I remember the first time I heard Boston. I was overseas by that time, and already tired of the Beeb-- their music was a wee bit too "poppy" for my taste. I was walking back to the dorms one evening, listening to the tunes being blasted from the guys' dorm. (Back in the days of cheap stereo equipment at the PX, some of the guys had put together some truly impressive wattage, which they were only too happy to share with the rest of us.) As I walked between the dorms, I heard this song echoing between the buildings. I had to stop, to stand still to listen to the whole thing. I still wish I knew who it was that unknowingly introduced me to one of the bands that was the soundtrack to my teenage years.
I looked out this morning and the sun was gone Turned on some music to start my day I lost myself in a familiar song I closed my eyes and I slipped away
I wore out two vinyl copies of that album all by myself. Dense guitar sound with two or three harmonized leads, and of course the incredible vocals of Brad Delp. I can put the first album on today and play it from beginning to end, just as I did a hundred years ago. I still know every word and can hum every melody line. Although "More than a Feeling" was the huge hit from the album, my favorite was another song, cheesy lyrics and all.
Life is like the coldest winter People freeze the tears I cry Words of hail their minds are into I've got to crack this ice and fly Gonna hitch a ride Head for the other side Leave it all behind Never change my mind Gonna sail away Sun lights another day Freedom on my mind Carry me away for the last time Oh yeah