that old wild single life....
Published on February 17 2007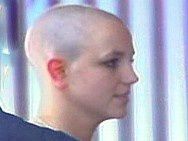 ABC News: Britney Goes Bald, Reportedly Goes to Rehab
Spears' reported rehab visit and new, hairless look is the culmination of a wild few months for the pop star. After filing for divorce from her husband Kevin Federline last year, she started club- and bar-hopping all night, all over the country.
Somehow, I don't think I'm going to have the same problem. Too cold up here for shaved heads, and I'm far too chicken**** to get anywhere near tattoo parlor needles, lol!! Rehab on Antigua sounds intriguing, though.