/me was a VERY good little girl this year
Published on December 23 2006
That kiss on the cheek I gave Santa while sitting on his knee must have been what did it.....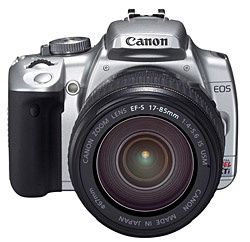 I forsee people running in terror at my approach--not because of the
usual
reasons, but because I TAKE PICTURES OF EVERYTHING.
Canon Digital Rebel XTi
Oh dear.... 10, count 'em, TEN megapixels.....this is going to be great to finally get some resolution. We could all use a little resolution. The info display on the back is just awesome, and I have found an adapter so that I can use my collection of prehistoric and pre-autofocus FD lenses. Being able to use those lenses tipped me to the Canon, 'cause the Nikon D's were awfully tempting. And at waaaaaaay less than half retail price (grin, grin) -- only caveat, gotta wait two weeks for delivery. (grumble, grumble) TOLD ya all the shopping was done!!