Published on November 27 2006
BBC NEWS || 'Beer goggles' effect explained
Scientists believe they have worked out a formula to calculate how "beer goggles" affect a drinker's vision. The drink-fuelled phenomenon is said to transform supposedly "ugly" people into beauties - until the morning after.
The scary part about all this is that it's the result of a "study" commissioned by Bausch and Lomb eyecare. The next scary part is the math involved. I am extremely bad at math, and my checkbook register will prove that.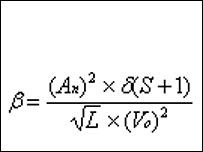 KEY TO FORMULA
Beer goggles equation
An = number of units of alcohol consumed
S = smokiness of the room (graded from 0-10, where 0 clear air; 10 extremely smoky)
L = luminance of 'person of interest' (candelas per square metre; typically 1 pitch black; 150 as seen in normal room lighting)
Vo = Snellen visual acuity (6/6 normal; 6/12 just meets driving standard)
d = distance from 'person of interest' (metres; 0.5 to 3 metres)
Who would have ever thought that "closing time" could be mathematically explained?
The formula can work out a final score, ranging from less than one - where there is no beer goggle effect - to more than 100. Nathan Efron, Professor of Clinical Optometry at the University of Manchester, said: "The beer goggles effect isn't solely dependent on how much alcohol a person consumes, there are other influencing factors at play too. "For example, someone with normal vision, who has consumed five pints of beer and views a person 1.5 metres away in a fairly smoky and poorly lit room, will score 55, which means they would suffer from a moderate beer goggle effect."
I'm thinking that after five pints, "beer goggles" would not be the only effect I'd be suffering! :-&