Mmmmmmmmm.....With Video Links!!
Published on November 17 2006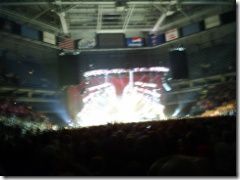 There are a lot of very satisfied Seger fans in Wisconsin right now, and yes.... I'm one of them. And you'll have to excuse the lousy, blurry picture--we had floor seats, but we were far enough back to render flash on a little pocket camera completely useless--this pic is one of those arm's length, you-know-it-isn't-going-to-turn-out photos--but it was the best of them all.
The show opened with Steve Azar, who played a 45-minute set. He was very good, and I intend to look up his music. But man, it's gotta be rough to be an opening act with a crowd who haven't seen the-reason-they-paid-that-Ticketmonster-fee in a dozen years. Azar and his band got politely enthusiastic applause, but it was pretty obvious that the crowd thought of him as background music.
Seger and the Silver Bullet band, including the Motor City Horns, were great. After watching Seger perform at the opening of the World Series awhile back, I was a little nervous about how he would sound. His voice sounded great, though; and he took on the high notes as easily as ever. In his usual black T-shirt and jeans, he may have looked like a grandpa headed down to the hardware store on a Saturday, but he performed with as much energy as a performer thirty years younger.
The band went through the same setlist as in this post, the highlights for me being "Roll Me Away" (of course), "Wait for Me" (which had tears running down my cheeks), "Ramblin' Gamblin' Man" (Seger introduced this with "Can you believe I recorded this FORTY years ago?"); and "Travelin' Man/ Beautiful Loser", which I thought was ....wonderful. Just wonderful. If Seger decides to retire again, he went out on a high note, as far as I'm concerned. (Btw, the little video shorts are from the Indianapolis concert.)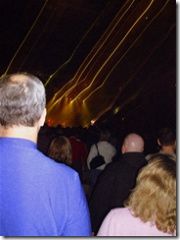 I still, hours later, cannot believe that I finally, after all these years, got to hear the man perform. I am one very happy fan this morning,even after 9 hours of driving, two hours of sleep last night, and an acute case of "loudspeaker ear".
The only downside to the performance was having the Worlds' Tallest Cheesehead in the seats directly in front of us. That man was 6' 8", I kid you not. He did block the glare from those spotlights, though, lol.