Oprah's been trying to do this for YEARS
Published on September 22 2006
U.N. Speech Gives Boost to Chomsky Book | Chicago Tribune
NEW YORK -- The U.N. address by Venezuelan President Hugo Chavez has had an unexpected impact -- on the best seller lists of Amazon.com and Barnes & Noble.com. At the start of his talk Wednesday, during which Chavez referred to President Bush as "the devil," Chavez held up a book by Noam Chomsky, "Hegemony or Survival: America's Quest for Global Dominance," and recommended it to everyone in the General Assembly, as well as to the American people. "The people of the United States should read this ... instead of the watching Superman movies," Chavez later told reporters. As of Thursday afternoon, "Hegemony or Survival," originally published in 2003, had jumped into the top 10 of Amazon, where it was ranked 20,664 the day before, and Barnes & Noble.com, from a previous ranking of 748.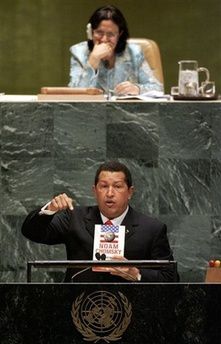 Is that woman trying to hide a yawn?? But then, we mustn't forget--Hugo only likes
"dead authors"
.
At a news conference after his spirited address to the United Nations on Wednesday, President Hugo Chávez of Venezuela expressed one regret: not having met that icon of the American left, the linguist Noam Chomsky, before his death. Yesterday, a call to Mr. Chomsky's house found him very much alive. At 77, Mr. Chomsky has joined the exclusive club of luminaries, like the actor Abe Vigoda and Mark Twain, who were reported dead before their time, only to contradict the reports by continuing to breathe. "I continue to work and write," he said, speaking from his house in Lexington, Mass.