Published on September 10 2006

[UPDATE: I purchased the Sept. 11th edition of US News and World Report today. Inside, I found an article concerning Cmdr. Shanower's family and the man who recovered him. Read the article
here
. It's worth it.] Every one of us remembers where we were that day. In the East, our busy days screeched to a halt at the news. In the West, we awoke to a nightmare with our morning coffee. Here in the Midwest, I was finishing a night shift and trying to get a nap after work when my husband shook me awake to tell me I had to come quick, something had happened. Every one of us spent that day watching or listening to the awful news from the East. I spent much of it sobbing for the enormous loss of life and thinking that I was watching my generation's Pearl Harbor....live. When I was given my assignment for the
2996
project, I immediately felt a link to my subject. We both happened to be the same age with a love of travel, are both Midwestern natives--in fact, my subject went to college not far from where I live. The similarities ended there, however; but as I read more about him, Respect replaced that imagined kinship. It's been five years since that day. Five years since the day Americans learned of the war that had been declared against us, a war heralded in opening salvos against our military and diplomats numerous times since the late 70's in places like Beirut, Tehran, Kenya, and Yemen. This was a war most of us were only dimly aware of until the day it came home to American soil on the bright morning of September 11, 2001 in New York, Pennsylvania, and Washington, DC.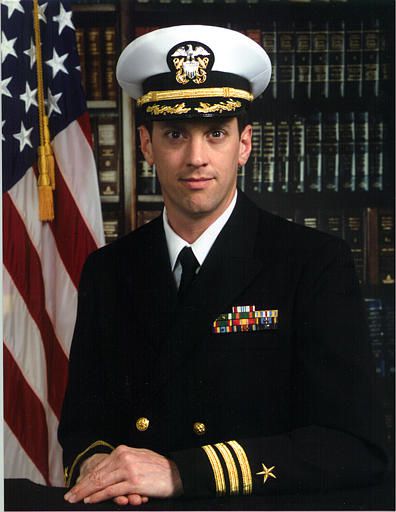 Cmdr. Dan Frederic Shanower, 40 years old that year, was aware of this war long before we civilians were. A career Naval Intelligence Officer based at the Pentagon, he spent his days studying, analyzing, and reporting on intelligence data. Shanower had spent his adult working life in Intelligence and Foreign Affairs, from early in his career debriefing pilots on the USS Midway and Assistant Intelligence Officer aboard USS Coronado; to a stint with the US State Department working for the ambassador to the Phillipines; to the Office of Naval Intelligence; to his last post at the Pentagon. As Officer-in-Charge of the Chief of Naval Operations Intelligence Plot, he was responsible for providing current intelligence support to the Navy Secretariat, Chief of Naval Operations staff, and the Director of Naval Intelligence. His job was to assemble daily intelligence data, analyses of geopolitical data and troop movements into the series of morning briefings for these senior Pentagon officials. At the time of his death, he was finishing his final course for a Master's degree in National Security and Strategic Studies from the
Naval War College
. At the moment that American Airlines Flight 77 hit the Pentagon's west side, Cmdr. Shanower was in his newly renovated office with a team of analysts, collecting data on the World Trade Center attacks. We may not have immediately realized the source or understood the reasons for the attacks, but it's probably safe to say that Shanower knew. Much of the following information is taken from
here
, the Arlington Cemetary website for Cmdr. Shanower. Dan Shanower was raised in Naperville, Illinois; the fourth of five children born to a schoolteacher and a college professor. By all accounts, he was a smart, inquisitive and somewhat mischievous boy.
Dan played in Little League, but his career highlight was the game during which he lay down in the outfield. "He did it for fun, which every kid should do," said Eugene Drendel, who had a son in Little League at the same time. "But he wasn't into who won or who lost, to put it gently. He did, on occasion, just take a rest." Dan's high school exploits have become favorite anecdotes for those who shared his teenage years. There was the time Dan buried an unwanted car engine in his parents' yard. The time he installed living-room furniture in the Naperville Central High School courtyard. The time he named his soon-to-be-dissected fetal pig after WGN farm reporter Orion Samuelson. The time Mayor George Pradel, then a police officer, pulled Dan over after curfew only to find he had replaced his car seats with lawn chairs.
After graduating from Central High in 1979, the free-spirited young man headed north to Wisconsin to Carroll College. During his college years he also spent time as an intern in the US Senate, and took a trip to the Soviet Union, finally graduating in 1983. In 1985, he joined the Navy.
He spent the first decade of that career overseas, first in Japan and later in the Phillipines. He made the most of his life abroad; he climbed Mount Fuji and tried to learn Japanese. At gatherings, he could captivate a crowd with his sea stories. He also built a reputation as a smart, confident officer who loved his profession. "He once told me it was almost a religion with him," Cmdr. Stewart Holbrook said. "He took his job very seriously, protecting his country and just having pride in the Navy." His parents received photos of Dan in foreign ports wearing a kimono, peeking through bamboo stalks, hoisting his ceremonial sword. His nieces and nephews received stuffed iguanas and machetes for birthdays.
In 1999, Shanower moved to Washington, DC and began working at the Pentagon in 2000.
~~~~~~~~~~~~~~~~~~~~~~~~~~~~~~~~~~~~
About a year ago, I had the privelege of touring the Pentagon with friends. The building seems unscarred now, but there is a new room adjacent to the Pentagon Chapel deep within the huge building. This is the 9/11 memorial, and seeing that dimly lit room is deeply affecting. Black marble tablets are etched with the names of the 184 victims of American Airlines' Flight 77's plunge into the building. Although I of course was unable to take away a photograph of this room, it's possible to tour the Pentagon Memorial
here
. Please take the tour; it's worth the visit.


Next to the DuPage River in Shanower's hometown of Naperville, Illinois is another memorial to the victims of 9/11. Cut into the sculpture is an outline of Commander Shanower's boot print. He is also memorialized at the Naval War College in Newport, R.I..

Memorials are beautiful, a way to honor the memory of the departed, a way to show our respect and our grief, our resolve to never forget, and a means of passing those lessons on to those who will come after us. I think the greatest memorial to this man, and the lesson which should be passed to the future, are to be found in his own words. In an
essay
published in the May 1997 issue of
Proceedings
magazine, Shanower wrote these words about four shipmates who had been lost in an accident ten years before:
"I miss their friendship, but I believe that because they died in the prime of their lives in the service of our country their sacrifices take on a special meaning..... I think, however, that to a man, what really would have impressed them was to know that to their shipmates they had come to personify the virtues that we salute on this national holiday. The military loses scores of personnel every year in training or operational accidents. Each one risked and lost his or her life for something they believed in, leaving behind friends, family, and shipmates to bear the burden and celebrate their devotion to our country...... They knew the risks they were taking and gave their lives for something bigger than themselves. I'll never forget them, and I'll never forget the day I learned that freedom isn't free."
Hopefully, the rest of us won't forget the day we learned the same lesson.